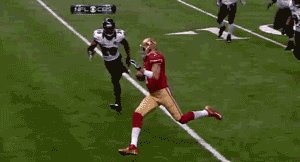 There are two outstanding games this week.
The first is the Seattle Seahawks at the San Francisco 49ers.
The second is the Carolina Panthers at the New Orleans Saints.
Wow. I haven't been this excited about two football games in awhile. This is the NFC at its best. These are the four teams that most people feel can really make a run at the Super Bowl.
The first game, the Hawks versus the Niners is such a great game. In regards to the Niners, they were such the hot topic as the season opened. They blew-up the Packers. What made that win even more impressive was everyone knew that the Pack focused their entire offseason on improving what went wrong in the playoff game the previous season. To spend all that time and still have the Niners trounce the Pack, it seemed like the Niners were going to the Super Bowl.
However, with hindsight, it has become obvious that the Niners beating the Pack wasn't some huge feat. The Packers defense is abysmal. Without Aaron Rodgers, the Packers went from possible playoff contender to serious questions of whether or not they will have a winning season.
Then came the fact that Colin Kaepernick seemed to be going through the same sophomore slump that Cam Newton had gone through. Once opponents took away the read option, it became clear that Kaepernick had a hard time going through his progressions. Put some pressure on him? Not such a great quarterback.
However, the Niners seem to be making a resurgence. Their last game showed some real promise. Even Trent Dilfer had to come back after the Monday night game and admit the Colin had made some improvements. The Niners then went on to beat an improving Rams. One has to wonder if they have figured some stuff out. It could be that with the addition of Crabtree again, it masks Colin Kaeprnick's deficiencies. Either way, they are on a bit of a roll.
The Seahawks just proved how superb they are in front of a Monday night audience. The Saints have an explosive offense. Yet, against the Hawks, they just could not get it together. They looked downright awful.
This is a division game. The Hawks are an outstanding 11-1. All those wins weren't always pretty, but they got 'em. The Niners, momentarily, have a wildcard spot. That slot is not assured. You better believe the Niners are gong to be playing on all cylinders.
I'm excited.
The second game of the week is the Carolina Panthers versus the New Orleans Saints.