This post is a little late because I've been in too much of a Cowboys-induced rage the past 48 hours to even think about writing it. The good news is that I'll Miles Your Austin is in the championship and we all know that fantasy is more important than real life… wait a minute. Strike that, reverse it. I'm going to go stick my head in an oven now.
Studs
Jamaal Charles (RB, Chiefs)
Best 2nd round pick ever, or best 2nd round pick ever? There is literally nothing I could love more about this guy: he's a Longhorn, he's adorable, and he helped get me to the championship. I remember looking at my phone Sunday afternoon, not even realizing the Chiefs game had started, and seeing that Charles already had a TD. Less than a minute into the game and he already gave me 9 points- my exact words: "This is going to be fun."
In addition to the fun factor of simply steamrolled my opponent out of the playoffs, Charles' performance was also record breaking. No NFL running back has ever scored 4 receiving TDs in a game and he had the 6th best single-player fantasy points in a game EVER. In case you were wondering about the rest of the list (because I certainly was):
1. Gale Sayers (RB, Chicago Bears)- 1965 Season, Week 13
2. Clinton Portis (RB, Denver Broncos)- 2003 Season, Week 14
3. Jim Brown (RB, Cleveland Browns)- 1961 Season, Week 10
3. Jerry Rice (WR, San Francisco 49ers)- 1990 Season, Week 6
3. Shaun Alexander (RB, Seattle Seahawks)- 2002 Season, Week 4
6. Corey Dillon (RB, Cincinnati Bengals)- 1997 Season, Week 15
6. Doug Martin (RB, Tampa Bay Buccaneers)- 2012 Season, Week 9
6. Jamaal Charles (RB, Kansas City Chiefs)- 2013 Season, Week 15
Did people really play fantasy football in the 60s? Can you imagine handwriting your lineup each week? Looking up projections and stats in the NEWSPAPER? That can't be real.
Justin Tucker (K, Ravens)
Going into the Monday night game I thought I had my playoff victory in the bag. I was up 40ish points and I had Megatron playing against the Ravens' kicker. There was no way the kicker could outscore Megatron and score enough points to beat me. Well, that turned out to be correct, but Justin Tucker did give me a momentary pause on Monday night. Fun fact: Tucker has scored 43.9% of the Ravens points all season. If that doesn't topple your reality, I don't know what will. Also, do I love the nickname Legatron or what? I simply adore it.
Living near Charm City has few perks, but one of which is having a decent amount of friends that are Ravens fans. There were obviously lots of memes floating around Monday night and Tuesday about Justin Tucker, but rather than show you those again, I have a Christmas gift for you. FOOTBALL. PLAYERS. SINGING. You're welcome.
Duds
Eli Manning (QB, Giants)
My best friend Eli threw 5 (FIVE!) interceptions against the Seahawks on Sunday, bringing his season total to 25. I thought the Seahawks defense was only unstoppable in Seattle, but maybe Eli got confused about where he was? Assuming that's the case, enjoy the montage of confused Eli faces:
Also, interesting fact that I heard from the Twitter: if you take away HALF of Eli's interceptions, he still has more interceptions than basically everyone in the league. (That fact isn't scientifically correct, because I can't find the original tweet but taking away half of his interceptions leaves 12.5. There are only 7 QBs in the NFL with more interceptions than that: Geno Smith, Carson Palmer, Joe Flacco, Matthew Stafford, Andy Dalton, Matt Ryan, & Ryan Tannehill. So basically the math works out to prove that Eli is bad. Like really REALLY bad.)
Matthew Stafford (QB, Lions)
Dear Makeda,
I'm just as surprised as you are that Stafford didn't go balls deep in the dome on Monday night. I really thought that your game would be touch and go and we'd be facing each other in the championship. But much like your Eagles, Stafford and the Lions seemed to choke in the dome and he ended up with a whooping 3 interceptions and only 1 measly TD. Unlike your Eagles though, Excessive Celebration's season is over. See ya.
Actually really love ya/sorry for talking trash/let's still be friends because we both know the Eagles are going to the playoffs anyway,
LSum
Surprises
Matt Asiata (RB, Vikings)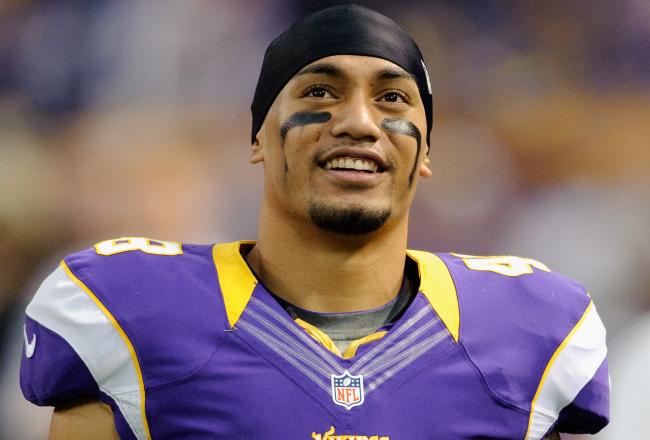 I know, right? Who knew the Vikings had another RB on their team besides Adrian Peterson? Hell, who knew the Vikings had another PLAYER another their team besides AP? I don't know where this kid came from, but his team's victory over the Eagles in what should have been an easy win for Philly is obviously a Christmas miracle. Thank you Matt Asiata and thank you baby Jesus.
Kirk Cousins (QB, Redskins)
There is a kid I went to grad school with that I defriended on Facebook Sunday afternoon because his LOL Romo posts got to be too much. Sure, Romo choked and sure, the Cowboys defense is hot trash, but do you really get to talk trash when your cover photo is the Washington Redskins logo? The only logic I can think is that after Sunday's Redskins/Falcons game (if you want to talk about LOLing, check out the turnover count from that game), he got excited about the future franchise QB Kirk Cousins. Did you know Cousins threw more touchdowns than interceptions? And did you know and had more fantasy points than Brady, Brees, Kaepernick, Cutler, and Romo? Obviously he's an unstoppable force and the Redskins are clearly playoff bound. Obviously.