Week 11 brought us a couple upsets and a couple blowouts (sigh...), but I'd say the week mostly went as one might have expected. Here are the games that stood out to me.
Texans @ Browns: The final score in this game was 23-7. I should be surprised, considering the Browns were 6-3 going into this game, but this is the team responsible for the 2014 Jaguars' single win. So of course Cleveland put up a big division win on the road last week, got nine days off, and then lost at home to…well, J.J. Watt.
Combining plays like that with a pretty impressive running game, the Texans managed to keep the game far out of Cleveland's reach. Upside for the Browns: 6-4 ties them at 2nd place in the AFC North. Downside for the Browns: There are two other AFC North teams at 6-4 and one of them plays the Titans tonight.
Falcons @ Panthers: The Falcons' win put them at the top of their division with a record of 4-6. Is it mathematically possible for the winner of the NFC South to finish with a losing record? I'm too lazy to calculate it, but god, I hope so. That would be so great. Can teams from this division even beat anyone but themselves?
Bucs @ Washington: Oh. Ouch.
Yesterday was Tampa Bay's second win of the season. RGIII's first play of the game was an interception. This happened on Washington's second drive.
27-7 loss for Washington. But at least their fans are loyal!! Hahahaha, I'm totally kidding.
Bengals @ Saints: Washington fans: This is how you should behave when your team is losing at home. The visiting fans are your true enemy. If their team is ruining your day, it's on you to ruin theirs.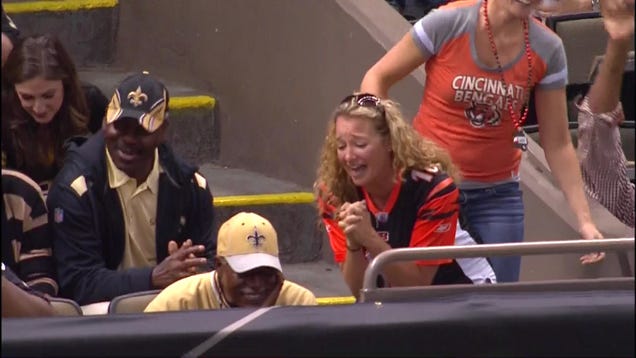 Broncos @ Rams: This is what it looks like when Peyton Manning sucks and not even his defense can save him from himself.
The Broncos went for it on fourth down three times and didn't convert a single one. Peyton threw two interceptions in the last 20 minutes of the game. Luckily for the Broncos, this was only their third loss of the season, so even after the Chiefs' win over the Seahawks yesterday, the teams are still tied at the top of the division.
49ers @ Giants: This is only noteworthy because Eli somehow threw FIVE interceptions yesterday. My favorite was in the fourth quarter, when Odell Beckham, Jr. managed to make this catch to put the Giants at first and goal…
And then on fourth down…
Oh, here's a fun fact.
Eli Manning and Tony Romo are the only active QBs to throw 5 interceptions in a game twice.

— ESPN Stats & Info (@ESPNStatsInfo) November 16, 2014
Patriots @ Colts: I thought this would be a close game. Pats running back Jonas Gray had other plans, as he ran for 199 yards and four touchdowns.
Plus, Tom Brady threw for 257 yards and two more touchdowns. The Colts never stood a chance.
Eagles @ Packers: Ugh. Do I have to?? FINE.
The final score was 53-20.