In a week where 3 out of our 5 teams won, you'd think we'd have more nice things to say. You'd be wrong. 
Allen: Atlanta Falcons
"This game is everything about why I both love and hate my team. We are absolutely destroying Tampa and life is amazing. Yet, last week, we got crushed by the Bengals. Am I happy tonight? Absolutely. Am I convinced we won't give up 200 yards rushing to whichever running back who doesn't beat up children the Vikings can find next week? No.
Also, why, during an Atlanta game, is CBS showing highlights of Deion playing AGAINST Atlanta? Argh.
Finally, I love Devin Hester.
Oh, and great job on that Josh McCown signing, Tampa. I mean, any time a career backup plays a few good games on a team with two all-pro level receivers, that must mean you should give him big money to be your starter. Well done.
Eight Atlanta touchdowns to those four Tampa first downs. In related news, former South Carolina QB and notorious drunk Stephen Garcia just cranked out the best tweet of the night: "When did the bucs get into the Big 10? Yikes."
And Phil Simms, who probably made more money tonight than I did in the last ten years, just provided a crucial bit of expert analysis: "Good game plan by the Atlanta Falcons." Thanks, Phil.
Never mind, Stephen Garcia. Imma let you finish, but Eric LeGrand brought us one of the greatest Tweets of all time when it was 56-0: 
Eric LeGrand @EricLeGrand52
Y'all need me to suit up Bucs???"
Lauren: Dallas Cowboys
In SumSum world, there is absolutely no excuse for falling behind 21-0 to the St. Louis Rams. Not only the St. Louis Rams, but the same Rams that are on their 3rd string unknown QB who has started exactly 1 game prior to this. Yes, it was great that the Boys tied their comeback record to actually win this game, but maybe in the future we can just WIN OUTRIGHT? Crazy concept, I know. I'm eternally thankful I was too hungover to make it to the couch on Sunday to watch this trash bowl. Can't wait for the Saints this week, womp womp. 
Madeline: Green Bay Packers
Madeline had A LOT to say on Sunday during this game, but most of it is unsuitable to be posted (even on a site like this where our standards are clearly lacking), so we'll leave it to her toned-down rant:
My only hope at this point is the the NFC North becomes the worst division in the NFC and GB still has a chance. You know, like how it imploded on itself last year. I refuse to lose the division to fucking Jay Cutler. 
Jackie: Miami Dolphins
Jackie's Dolphins have left her so flustered that when asked for comments she could only provide them about UGA. Instead we'll give you this again BECAUSE IT'S AMAZING: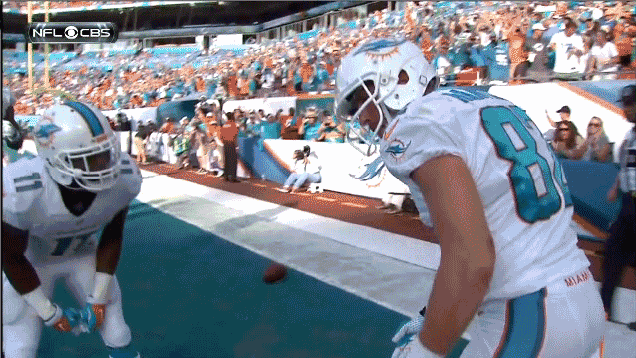 Makeda: Philadelphia Eagles
"The Eagles are one of only three 3-0 teams in the league right now (what up, Bengals and Cardinals!), so again, I don't want to be the asshole who complains about a winning team. But we beat the Colts on the road by the same point margin we beat Washington at home. That inconsistency is going to bite us in the ass sooner or later, possibly as soon as this Sunday against the 49ers. Oh, and one of our corners is talking shit in the press, saying the Eagles' tendency to fall behind early is because Chip Kelly is working the team too hard during practice, which...makes no sense whatsoever when they keep coming back to win. I think someone's just pissed DeSean Jackson burned him for an 81-yard TD."