The past few weeks my travels have taken me from Jacksonville to DC to Chesapeake, VA and back to Tampa again. It was wonderful to visit with many dear friends, but being the fall there was an underlying theme of our chatter. Football. SEC football to be specifically. It is late in the season and fun to predict SEC championship possibilities, but predictions is much too serious of a topic for this post.
Today we are discussing the Seven Shades of Red that rule the South. Those colors represent Alabama, Arkansas, Georgia, Ole Miss, Mississippi St., South Carolina, and Texas A&M. After years of living in SEC country, people compare shades of red by matching the item to an SEC school. I am not just talking about the ladies either. I have heard some of my favorite men compare their golf bag colors to Arkansas red, which is followed up by a quick retort that it looks like Bama red to his fellow golf partner for the day.
Let's rank the seven shades of red.
#7 Texas A&M - The newest shade of red to enter SEC nation. It does not have the tradition that the rest have. Plus this shade of maroon just doesn't do it for me.
#6 Mississippi State - This shade of maroon is slightly better than A&M's. Dak sure makes it look good.
#5 Ole Miss - Ole Miss would be ranked higher on my list if they didn't match it with blue.  Nothing says Rebel like Harvard Red and Yale Blue.
#4 Arkansas - I love the Hogs, but they change their red depending on their sponsor. Ain't nobody got time for that. Note: the shirtless guy is not a Arkansas fan, but a Kentucky one.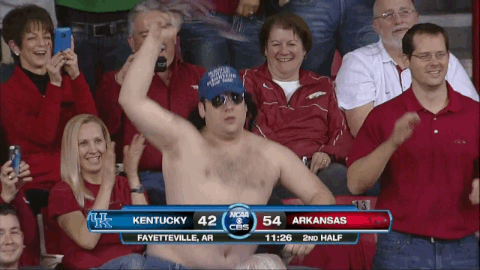 #3 South Carolina - Hatin' Ass Spurrier has makes this color look great. Also, if you have never read this blog it is one of my favorites.
#2 Alabama - Classic never goes out of style. Also, Bama has the best SEC print by far with houndstooth, but that is another blog post.
#1 Georgia - OF COURSE! The classic red and black.
There are definitely some similarities. Alabama, Arkansas, and South Carolina could be bunched together as could Miss St., South Carolina, and A&M. Georgia and Ole Miss are close. I cannot tell you how important it is to make sure you have the correct shade of red in your wardrobe, especially if you are playing one for your shade similar foes.
Let's take a look at a few examples. This weekend I was at a wedding and there was at least a five minute conversation between the guys and me about whether or not the dresses were Bama red or not. What do you think?
Carrie, who I love despite her being a Gamecock, showed up in a Carolina red dress? Looks Georgia red to me! I knew we would finally convert her.
Then there is the mens side. Construction apparel anyone?
So if you come down this way, expect yourself to be sipping a bourbon discussing the particulars of the seven shades of red.