We're down to the final four teams. Check out how our brackets held up (sorry, LSum...) and our thoughts on this weekend's Conference games.
Jackie
Wild Card Picks
: 4 out of 4
Division Picks
: 3 out of 4
Conference Picks
Packers @ Seahawks: This is usually my favorite football day of the year, but these matchups are not really doing it for me. I am hoping for a pleasant surprise. I am still bitter I had to miss last weekend's games. Both of my picks are still in, so I am going to stick with them, but Seattle may actually win. They seem to be playing better than Green Bay, but Green Bay has a squad that can pull it out in The Clink. Playoff football seems to be coming down to critical officiating calls, so anything can happen.
Colts @
Patriots
: The Pats are my least favorite team in the NFL, but the one I respect the most. I suspect they show up and roll the Colts, but if Andrew Luck gets into his early season form, they could be in for trouble.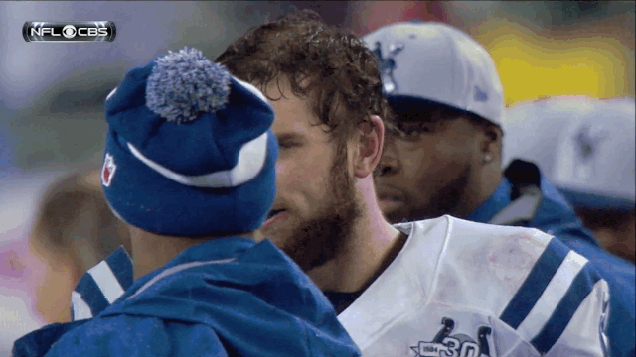 Still the best thing, let's all watch it again.
Allen
Wild Card Picks
: 2 out of 4
Division Picks
: 3 out of 4
Conference Picks
Packers @ Seahawks: I picked the Packers and Patriots to make the Super Bowl before the playoffs, and miraculously both are still alive, so of course they're still my picks. I love Russell Wilson and Marshawn Lynch, but I don't think the Seahawks offense is good enough overall to keep up with Green Bay. I realize this argument is shaky, but I'm going with it. The football gods must love Madeline and LSum, right?
Colts @ Patriots: This could be the last title run for Brady and Belichick. Are they going to lose to a team with no running backs, an iffy defense, and the ugliest quarterback of all time? No. Absolutely not.
Madeline
Wild Card Picks
: 2 out of 4
Division Picks
: 3 out of 4
Conference Picks
Packers @ Seahawks: There is no way for me to separate my heart from my head in this game. Our offense has some big challenges going into this game against Seattle, obviously, Aaron Rodgers. Aaron Rodgers could not scramble during the Cowboys game...at all. He had to do some kind of skip-hop thing to run to the line of scrimmage. The Seattle defense is far superior to the Cowboys defense. Seattle will be lethal when it comes to Aaron. They know that he can not move and they will adjust accordingly. Seattle will be all over Cobb and Nelson. Therefore, a third receiver will be crucial in this game. Davante Adams had a monstrous game against the Boys with 117 yards and has emerged in the last few weeks as this much-needed third receiver. However, he is still a rookie and drops a lot of balls. Adams needs to mature in a blink of an eye to win this game. He needs to keep his dropped passes under control. No time for you to be a rookie anymore, buddy. Rodgers' passes may not be as crisp this game, and Adams needs to man up. The fourth receiver has been very weak; Richard Rodgers and Andrew Quarless (both tight ends) will hold this important position for the Seattle game. Our offense needs to protect Aaron Rodgers without a mistake. We cannot afford false starts. We cannot afford our center to not play through the whistle.
Our defense has stepped it up. It's unbelievable, but it's true. The problem is, our defense feeds off the offense. If our offense is down, our defense seems to lose heart. That, clearly, can not happen. Seattle will try and run the ball a lot and chew up time to keep Aaron off the field, regardless of his diminished capacity. Our defense can't allow long drives. Our defense also can't get soft. Seattle can make big plays, we can't be caught snoozing.
I honestly think, in a perfect world where Aaron Rodgers was not hurt, we would win this game. We are so much better than when we last met Seattle during Week 1. However, the game in its current state will be extremely tough. It's going to come down to coaching, the Green Bay offensive line, a monstrous game from our defense, and a little luck.
Colts @ Patriots: I used all my words on the Green Bay game. The Colts played the Titans x 2, Jaguars x 2, Browns, Washington, and the Giants this year. They also lost already to the Patriots 42-20. I don't see them winning this game. Sadly, for this game, it comes after the Green Bay game. Win or lose, I just don't see me watching this game.
Also, whoever wins the NFC championship game will win the Super Bowl. The NFC is far superior to the AFC this year. So, much like the NFC Championship game between Seattle and San Francisco last year, the NFC Championship game will be the "real" Super Bowl this year.
Makeda
Wild Card Picks
: 2 out of 4
Division Picks
: 3 out of 4
Conference Picks
Packers@ Seahawks: Dear Green Bay Packers...
Like Allen, I'm sticking with my Super Bowl picks, but...I don't know. It all depends on which Russell Wilson shows up to this game. The Seahawks D is going to come down hard on Green Bay, but that doesn't matter if Seattle can't put up points. This will definitely be an interesting game.
Colts @ Patriots: It's been a good run, Indy. Here's where you get spanked.
Lauren
Wild Card Picks
: 2 out of 4
Division Picks
: 2 out of 4
Conference Picks
Packers @ Seahawks:
Packers will win! Obviously, I'd rather the Boys be playing this game, but since they're not, I might as well root for my #2 NFC Team.
Aaron Rodgers. I know he's supposedly hurt and whatnot, but I have faith in my boo. And it's okay to call him my boo because he's probably/hopefully gay.
Clay Matthews. This, this, all of this.
Kheddar. Disclaimer: I fully intended to list cheese for C, but then I remembered my (other) boo. I love cheese and Wisconsin loves cheese.
Everybody loves an underdog. I'm not sure if the Packers count as underdogs in the truest sense of the word, but since they're playing against the Super Bowl Champions, I think it's fair.
Road trip! OK, we're not driving to Wisconsin because that'd be insane. However, plans are being made to attend the Cowboys game at Lambeau next season (unless it's in December because FUCK THAT NOISE) and I could not be more excited about it!
Seattle sucks. The end.
Colts @ Patriots:
Patriots will win! I'm not happy about this, but I just can't support the Colts and their ugly QB.
Apparently Julian Edelman is a babe. I realized this last week and it prompted a nice email chain between the writers. It also brought about one of my favorite Allen-isms of all time: LSum clearly brought Edelman luck and turned him into a QB with this thread, and in return he brought back the beard.
Tom Brady is better than Andrew Luck. And not just because he's prettier and I have a strong theory about quarterbacks being better when they're sexier.
See you in Arizona! Turns out I can't think of enough to say about this team, so I'm using their nickname. Sorry not sorry (also an S for you there).